In 2010 a barn owl nested in the old sycamore tree. The picture shows the barn owl has been ringed. We did not see them nesting here in 2011, but they were back in 2012. 2016 and they are still around.
Muntjac deer often seen around. Grass snakes were observed in gardens in the summer. Red Kites & Buzzards wheel above the village almost daily.
Parent barn owl by nest in sycamore tree
photo by Ailis Smith of Braceby
click here for Royal Society for the Protection of Birds (RSPB)
BIRDS Tree planting has helped wildlife in the area. Small birds benefit from it. 40 species of birds have been observed in the Parish over the year. There is a long established rookery behind Manor Farm. Skylarks, lapwings and some other species are less seen due to incompatibility between their feeding and breeding habits and current farming methods. Recently the tree sparrow numbers have increased, possibly due to villagers putting out more wild bird food. Barn owls sometimes roost in the buildings of Manor Farm. Long tailed tits in groups of about six regularly visit the bird feeders. A barn owl nests most years in the old sycamore at the bottom of Dovecote Cottage garden. Barn owls rely on old trees such as this for nest sites.
MAMMALS The most prolific are rabbits, a constant nuisance to the farmer and gardener, but attractive to watch. Hares are common in the fields, coming into the village during the winter. The occasional fox can be seen, but the gamekeepers keep their numbers down. Hedgehogs are well established, though not often seen. There is a large herd of fallow deer. They come right into the gardens, particularly during the winter, most frequently seen early morning or late evening. A solitary small muntjac deer is often seen in some gardens. Fieldmice and voles keep local cats busy, and rats are not far from anywhere. Secretive stoats and weasels are occasionally seen.
Roadside Nature Reserve No. 41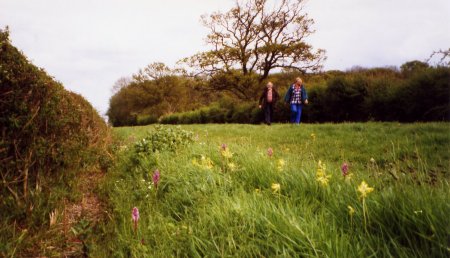 On the boundary between Braceby and Sapperton
LIMESTONE ROADSIDE VERGES an important plant habitat
The verges each side of the road by Sapperton North Wood have been designated by the Lincolnshire Wildlife Trust as a ROADSIDE NATURE RESERVE (No.41) since 1993. This road is part of the southern boundary of the historical Braceby parish. The list of species extends to 250 plants. Most notable are Early Purple Orchids, Common Orchids, and Cowslips.
In 2013 the Roadside Nature Reserve was extended at both ends because of the early purple orchids and other plants and grasses. It now begins closer to Braceby and ends beyond the turning for Pickworth. New signs were erected.